Heartfelt hospitality and hands-on experiences Totoya
Overlooking the Sea of Japan, with magnificent cliffs and the ancient Onaru Tumulus tombs right nearby, Totoya is an inn where you can feast on Japanese cuisine made with plenty of fresh-caught fish and seafood, and experience the real Japan through programs such as joining fishermen on a fishing boat, dressing up in a kimono, and staying at a Japanese house (Ryugu-no-ie).

Cuisine
Mmm, that's tasty!!
At Totoya, we pride ourselves on the freshness of our ingredients
At Totoya, one way we practice omotenashi (the traditional Japanese ethos of hospitality) is with the abundance and quality of our ingredients. Our expert chef prepares local Kyotango specialties you won't find anywhere else with dynamism and delicate artistry. From spring to autumn, enjoy fresh locally caught fish and shellfish, vegetables and fruit. In winter, feast on the finest crabs chosen by the discerning eye of proprietor Ms. Ikeda, and scrumptious amberjack shabu-shabu (where paper-thin slices of fish held in your chopsticks cook in a moment in a bubbling hot broth).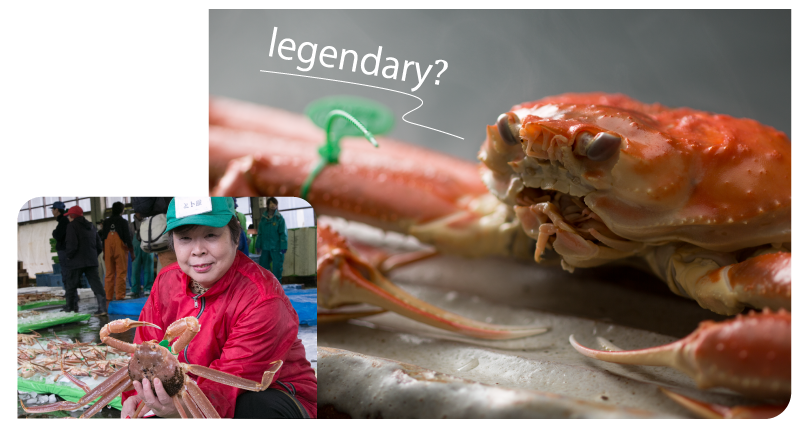 Snow crabs are the most common variety of crab in the Kyotango region. When the season begins on November 6, crabs are caught around the nearby fishing port of Taiza, and because they inhabit plankton-rich waters near the shore, crabs with sweet, firm flesh are sold super-fresh right on the spot. That's why their quality and taste are the stuff of legend.
Ms. Ikeda, the proprietor, selects the best crabs herself, and with her eagle eyes sharpened over many years of experience, you're sure to savor the most sublime crab cuisine at Totoya.
Inn interior
Guest rooms
Have blue of sky and sea all to yourself
Outside the large windows is a panoramic natural vista––every guest room has a view of the Sea of Japan. There are only 10 rooms because we want to be able to treat each guest like family. The café and bar is another place where you can linger and enjoy the leisurely pace of life here.
Onsen

(natural hot spring baths)
Open-air natural hot spring baths where steam mingles with briny breezes
An onsen is a natural hot spring where you can enjoy bathing. The waters of Taiza Onsen are rich in colorless, transparent alkaloids, and if you just splash a little on yourself, you'll feel your skin grow soft and smooth. In the open-air bath, immerse yourself in sounds of the four seasons––the chirping of birds, the sounds of insects, and in winter, the crashing waves of the Sea of Japan.
Natural scenery
Our inn is located inside San'in Kaigan Geopark, part of the UNESCO Global Geoparks Network, and the scenery is truly spectacular. We're sure you'll be delighted, and will want to take plenty of pictures!
Reservations
It's easy to make reservations on the Internet (Totoya does not accept reservations by phone).
Please reserve your room on one of the sites below.
Comments from guests
Nothing makes us happier than messages from our guests.
At Totoya, messages of encouragement and gratitude from our valued guests are what keep us going strong. We keep a blog featuring guests that have stayed with us as well. Moving forward, we will continue connecting our guests with unforgettable new experiences.





Access

566,Taiza,Tango-cho,Kyotango City, Kyoto Pref.,Japan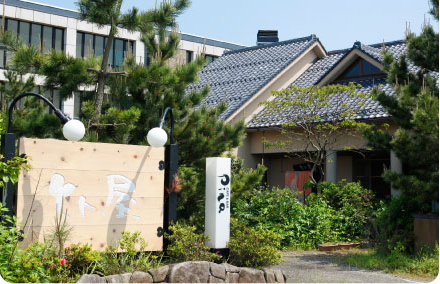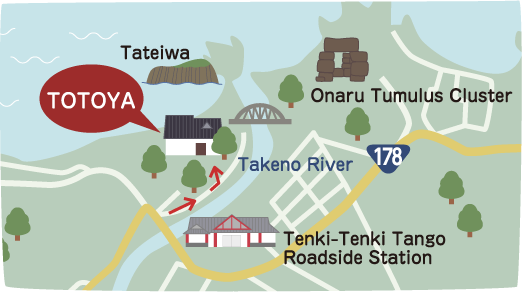 Totoya is located in Kyotango in the north of Kyoto Prefecture,
two hours from Kyoto City and two and a half hours from Osaka City.
If you get lost, please show this page to a train station staff member and ask for directions to your destination.
*Times shown are the shortest possible times.
Actual lengths of time required may vary depending on transit conditions and specific train taken.
【By train】
From the nearest station (Amino Station or Mineyama Station), take a taxi or bus to reach us.
*We operate a free shuttle bus as well, which can pick you up at the station if you notify us when you make your reservation.
JR Kyoto JR Sanin Line65min JR Ayabe JR Sanin Line8min JR Fukuchiyama Kyoto Tango Railway75min Amino
Value travel passes
Kansai WIDE Area Pass
(JR West Rail Pass)
This pass gives you unlimited rides on JR trains in the Kansai region.
*Cannot be used on the Kyoto Tango Railway.
〈Valid areas〉

Kansai International Airport, Osaka, Kyoto, Hyogo, Nara, Himeji, Okayama,
Kurashiki, Wakayama, Shirahama, Kinosaki Onsen, Shiga, Tsuruga,
Takamatsu, Iga-Ueno
〈Prices〉

When purchased outside Japan


5day: Adult/8500 yen Child/4250 yen


When purchased in Japan


5day: Adult/9000 yen Child/4500 yen
〈Where to buy〉

Major JR stations in Kansai
*Information is up-to-date as of October 2016.
---
【By intercity bus】
Take the Kyoto Tango Railway from Nishi-Maizuru.
Kyoto Kousoku Nagaokakyo25min,Kousoku Nagaokakyo Miyazu Amanohashidate90min,Miyazu Amanohashidate Kyotango75min Kyoto Nishimaiduru120min
---
【By rental car】
Parking available
Amanohashidate Rent-A-Car is a handy way to get here from the Amanohashidate area.
---